Peter is a Chartered Accountant by training.

His love for wines, particularly Bordeaux wines started while he was working as Finance Director for Seagram in the 1990s. His first visit to Bordeaux in 1996 kindled his interest in wine and he has since grown in his experience with wines from both the new and old world, as a wine enthusiast.

Peter decided to further immerse himself in the wine business and took a leap in leaving his profession in 1998, to manage a company that distributed Wines and Spirits in Asia.

His interest for Bordeaux wines grew into a passion and he continued with a network of wine enthusiasts to explore the many interesting characters found in Bordeaux wines.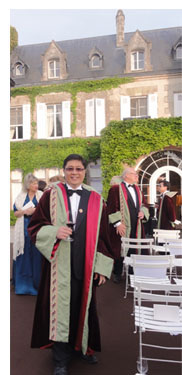 This passion spurred him in 2006, to start Infinite Supply. This allowed him the full rein of fuelling business with passion.

His unique strength is his strong financial acumen from his Chartered Accountancy training and his vast experience, contacts and network in the wine industry. For his customers, this translates to good provenance and prices for the wines supplied. (see section on En Primeur)
He continues to learn about and enjoy the wines he loves and bringing access to these wines, to his customers. His passion for wine will be a life-long journey.
As written in the article "Dining with Robots," published in The American Scholar. (Also anthologized in Best American Science Writing of 2005.),
"You could spend the rest of your life tasting wine and still not exhaust its variations, each bottle a little ecosystem of grapes and soils and weather, yeast and bacteria, barrels of wood from trees with their own soil and weather, the variables cross-multiplying until each glassful approaches a singularity, a moment in time on earth."
Peter saluts that!